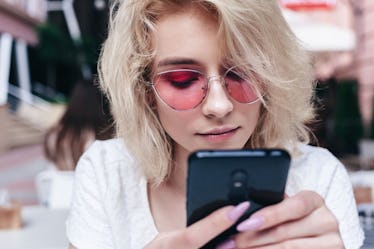 7 Poems About Love You'll Want To Send Your Partner Right Now
I really don't care for romantic comedies. I realize they're supposed to totally be my jam — or so advertisers keep telling me — but I'm just not interested. However, if you take rom-com plots and put them in period settings, suddenly I am all in. North & South is my jam. Sure, I love the gorgeous costumes and lush settings, but between you and I, I also just love the old-fashioned romance, which seems to be a lost art. But by having a few love poems to send your partner, you can resurrect it and infuse a little traditional romance into your relationship — through modern technology.
The beauty of sharing poetry with your partner is that poems are often able to express the powerful and abstract emotions we feel but don't always have the words to accurately convey. So if sending love poems sounds like something you'd like to do, but you don't know where to start, no worries; I've gathered a few to get you going. These are perfect poems to send your lover that will make them swoon but won't make you feel corny. In other words, nothing too flowery — just powerful and passionate prose to let the one you love really know exactly what's in your heart.