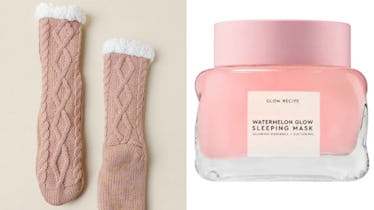 Morning People Will Be Obsessed With Any Of These 7 Gifts This Holiday Season
Francesca's Closet/Sephora
There are two types of people in this world: those who rise with the sun, and those who cannot even begin to fathom rolling out of bed before noon — at least not willingly. With the holiday season looming, and time running out to find that perfect gift, if you're still stumped on what to buy a loved one who's always waking up at the crack of dawn, there are plenty of gifts for the morning person in your life that can make their early rituals even more enjoyable. Because, let's face it, even though you might not necessarily understand why, early birds are up and thriving well before 9 a.m. most days, and they love every sleepy-eyed second of it. The best present you can offer is one that'll make their mornings that much better.
Take it from someone (i.e. me) who spent several years training herself to become a morning person: There is something to be said about waking up early and starting your day with the sun. Aside from the fact that sunrises are one of the most beautiful sights you will ever witness, it's nice to know that there is so much of the day ahead of you to take full advantage of.
If you really want to spoil your loved one this holiday season, maybe you could agree to wake up with them one morning and go for a walk around the neighborhood, or take them out to an early breakfast — your treat. They'd thoroughly enjoy the company, and would probably have a blast showing you what they love about the early hours.
But, if the mere idea of having to set your alarm any earlier than absolutely necessary makes you cringe, no worries. Here are a few gift ideas for the morning person in your life that they'll definitely appreciate.