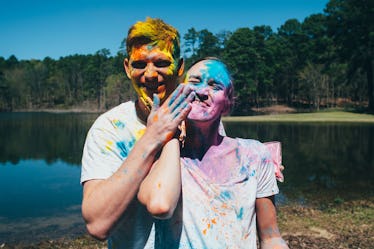 7 People Reveal The Funniest Place They've Ever Met Someone They've Dated & LOL
I love romantic comedies for one very specific reason: I can't resist a good meet-cute. You know, the ridiculous but adorable way two people bump into each other at the beginning of a movie? It's like when Matthew McConaughey's character saves Jennifer Lopez's from being crushed to death by a runaway Dumpster in The Wedding Planner. He turns out to be a doctor who can treat her injuries and, in a bizarre twist, she turns out to be his wedding planner. You can't deny that the path of a careening Dumpster is one of the funniest places to meet a boyfriend or girlfriend. Hopefully, they're not engaged to be married at the time, though.
I'd like to believe these things happen IRL, too. I mean, telling your friends and family how you met your significant other is, like, standard Thanksgiving dinner conversation. Messing this up would be just as bad as Rachel making half an English trifle and half a shepherd's pie on Friends. Plus, the tryptophan in the turkey is enough to put everyone to sleep without the details of your uninspired story dragging on in the background. All I'm saying is that when I show up to the family dinner this year, I better have an epic love story to tell with movie rights, plots twists, and an emotional soundtrack. Here are seven people who'll have no trouble bringing the drama.