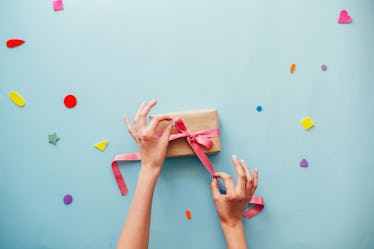 7 Father's Day Gifts Under $25 That Your Partner's Dad Would Really Appreciate
Oh, hello! My eyes have finally stopped itching and my nose has ceased running — it must be mid-June. That special week when summer morphs from fan-fiction to unscripted Netflix documentary. We've made it, babies! There is no holiday to mark this beauteous moment, but the third Sunday in June is a cause for celebration: it's Father's Day. Cue the golf-themed gift purchasing! And if you're in a relaysh, don't forget the dude who raised your partner. I think low-key Father's Day gifts for your boyfriend or girlfriend's dad are totally appropriate if you're in deep with your bae.
But let's be real — I have a hard enough time coming up with gift ideas for my own family and friends. Is a random pair sweatpants an appropriate gift? I like sweatpants. A lime squeezer? I need a lime squeezer. (See? I suck.) I think the major tenants to purchasing a Father's Day gift for your partner's dad are the same tenants all gift purchasers should follow: don't go overboard, choose something useful, and try to make it personal.
This isn't a wedding, where cash is queen, this is a tiny, random, honestly weird holiday because while dads should be appreciated, not everyone has a dad. Also, dads just want peace and quiet, not an apron with the image Michelangelo's David and his wiener. (Or anything else you might find in a SkyMall catalog.) Here are seven inexpensive gifts for the other father in your life. (Because let's not overthink it.)
1. Customized Koozies
I am a huge fan of Koozies. They keep your beverage cold, they're more fun to collect than magnets or postcards while traveling, and they're really easy to custom make online. I actually have a collection of Koozies in my home. It's true that custom Koozies are most often found at weddings, but I think any dad would appreciate a custom designed "Bob's Beers" insulated beverage wrap. Especially if your partner's dad's day plans include drinking outdoors.
2. A Customized YETI
Want to up your game beyond a foam Koozie? Dads love YETI products. But alas, YETI coolers are expensive AF. You can customize this Lowball Rambler with anything from collegiate emblems to monograms to your partner's dad's favorite fish. Go wild!
3. Really Good Cheese And Meats
There is nothing like an indulgent assortment of cheeses and meats to make any dad's day. (Well, unless your boo's dad happens to be vegan.) Find your local cheese shop and pick out some Gruyere and Aged Gouda, and add some smoked meats or charcuterie for a gift that's really hard to be mad about. (Plus, you might get to enjoy some too!)
4. Four Sigmatic Mushroom Coffee Mix
I am still a regular coffee drinker, but I can't stop hearing about mushroom coffee from all of my fit (and LA-dwelling) friends. If your partner's dad is into fitness and healthy eating, or trying to break his coffee habit, definitely pick up a box of Four Sigmatic Mushroom Coffee Mix (which seems to be everyone's favorite).
5. A Set Of Spices
Yes, we could go all traditional this father's day and propose that your partner's dad grill with these spices, but they're also just great to throw on eggs or add to a steak cooked inside.
6. A Book
Why not go classic and choose a book for your partner's dad that seems up his alley? My personal recommendation for the hip, music-loving dad would be Meet Me In The Bathroom by Lizzy Goodman, which is an incredibly interesting look into the New York music scene during the aughts featuring juicy stories about James Murphy of LCD Soundsystem and interviews with The Strokes. Highly recommend for a "cool dad."
7. A Growler Of Beer
If your girlfriend or boyfriend's dad loves beer, why not keep it simple? Especially if you're going to spend Father's Day together. Find a local craft beer spot in his neighborhood — my favorite is Eastern District in Brooklyn — and go get him a growler full of ale. Choose somewhere convenient to your partner's dad's Then, when they return it, they can refill it with another beer they'd like to try. It's the gift that keeps on giving!
Above all, don't stress the gift too much. It's nice enough that you thought of your partner's father this Father's Day, and it really is the gesture that counts. Another option: pick up the tab at dinner sometime. HFD!