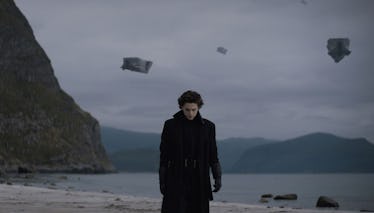 7 'Dune' Details That Will Transport You From Your Couch To A New Planet
Warner Bros. Pictures
Frank Herbert's Dune was originally published in 1965. It was an instant classic, a genre-defining tale for science fiction the way The Lord of the Rings was to fantasy. It won the first-ever Nebula Award for Best Novel and tied for the 1966 Hugo. It is the world's best selling science fiction novel of all time. Herbert wrote five sequels before his death in 1986, and his son has gone on to pen 17 more, based on his father's notes. For those just getting into the series, these Dune details will help take you to a very different galaxy far, far away.
The world of Dune is set thousands of years in the future and several hundred since interstellar space travel was invented. Humans have done what they always do, heading out to explore and treating the galaxy beyond our solar system as a Manifest Destiny, conquering planets and declaring ownership.
As is the way of the capitalist society, money rises to the top. By the time the original Dune novel opens, wealth and power have consolidated into the hands of a few "House Majors," which are the Great Houses who have set up a feudal empire known as The Imperium. Much like Game of Thrones' Westeros, these houses are playing the Great Game, attempting to jostle for superiority over each other.