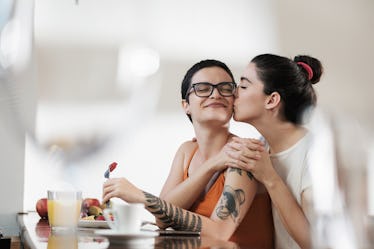 7 Cute Ways To Cheer Up Your S.O. If They're Having A Bad Day
engagestock/Shutterstock
I won't mince words: 2020 has been tough. With obstacles like economic uncertainty and living through a pandemic, these past months have tested our strength and resilience in ways we never expected.
For example, if your year has included the experience of weathering a stay-at-home order alongside a significant other, then you know being in quarantine can be stressful for any relationship — even the seemingly solid ones. After all, no couple is immune to off days when moods feel unsalvageable and all you want to do is hibernate under a weighted blanket until things get better.
When it comes to acting as a supportive partner in these moments, the good news is that small gestures can make a big difference. To give you some inspiration, Elite Daily teamed up with Charmin to find the best small-but-impactful ways to boost your partner's mood when they need it most. Keep reading for sweet ideas that are sure to make them smile.
1. Wake Them Up With A Strong Cup Of Coffee
If your S.O. is the type to smash the snooze button over and over, get up before them and make a fresh cup of coffee so they can have the luxury of extra time under the covers. Even if they're too sleepy to fully comprehend the gesture, it'll start their day off on the right — and sufficiently caffeinated — foot.
2. Pen An Extra-Cute Love Letter
OK, this may sound over the top, but roll with me for a second. When's the last time you wrote your boo a love letter? Chances are, it's been a while (if it's ever happened at all!). Sometimes, a classically romantic gesture like filling out a card or writing a little poem is just the ticket for making them feel like the luckiest. Pull out your old art supplies —or even just a sticky note and the nearest pen — and put into words exactly what you love about them.
3. Tackle That Stack Of Dishes In The Sink
If they're having a rough day, it's safe to say that doing chores is at the bottom of their list. While it may not feel super sexy, handling that growing stack of dirty dishes can be the fine line between a bad day and a better day. Because, really, who wants to look at crusty old plates when they're feeling bummed out?
4. Hand Over The Remote
There's no better cure (or at least, temporary distraction) for a bad day than re-watching a beloved show for the millionth time. Next time your S.O. seems down, ditch your evening lineup and stream their top pick instead. Don't be surprised when they can't help but laugh at all the jokes they've heard before.
5. Stock Up On Home Essentials
Nothing turns a bad day into the worst day faster than realizing you're out of toilet paper after it's, well, too late. Be proactive on your next errand run and swing by the store to pick up necessities like Charmin toilet paper and flushable wipes. Your partner will appreciate you thinking about the little things and they'll be relieved to find backups next time the roll comes up empty.
6. Cook Something That Reminds Them Of Home
There's a reason people say the quickest way to someone's heart is through their stomach. Surprise your boo with something they grew up loving, like baked mac and cheese or pizza topped with pineapple. If you're not feeling particularly culinary, takeout works just as well, and also means less cleanup later.
7. Turn The Bedroom Into Their Own Personal Oasis
Stressful days suck, but taking stress to bed? Bad for you and even worse for your sleep cycle. If your partner's dealing with a lot, make the bedroom extra cozy to help them ease into a good night's sleep and start the next day feeling refreshed. Put on fresh sheets, fluff up the pillows, light some candles, and play some soothing music. Extra points for aromatherapy and a just-out-of-the-fridge sheet mask to help them forget the worries of the world.
This post is sponsored by Charmin.