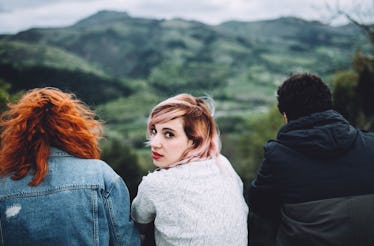 7 Brutally Honest Phases Of Breaking Up When You're In The Same Friend Group, Because Ugh
Usually when you're going through a breakup, the people you can turn to are your friends. They will be there to unequivocally take your side and give you all the "they were never good enough for you anyway" pep talks you need. But what about breaking up when you're in the same friend group? Suddenly, things get a lot more complicated. For one thing, your support group is now personally involved, and it's going to be a lot harder for them to take a side. You can end up feeling both totally overwhelmed and emotionally claustrophobic, but also completely alone. Yeah, breaking up within your squad can be rough stuff.
But here's the thing: Like every other breakup, you will survive. You will be OK. Hearts will heal and life will go on... eventually. So, while your friends may not be able to be there the way they normally would in a breakup situation, just take comfort in the fact that you're not alone. Other people have been in your shoes and lived to tell the tale. If you're on verge of calling it quits on a relationship where you share friends with your soon-to-be ex, or if you're already in throes of a relationship that has recently ended, well, either way, here are the phases you can expect to go through before things get better. And yes, they will get better. I promise.