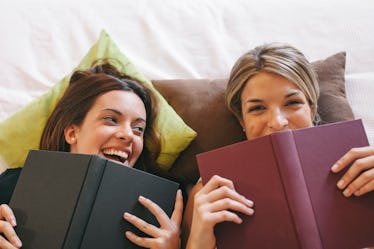 7 Books With Beautiful Queer Love Stories You Need To Read During Pride Month
June is Pride Month, and if you're looking for LGBTQ+ books to read in celebration, you've got options. Fortunately, queer representation in literature has slowly but surely been improving over the past few years. While there are novels that still use LGBTQ+ characters as cliché sidekicks to the more fleshed-out, straight, cisgender main character, or insert a gay love story simply as a plot device, there are many authors out there who are giving queer characters the love stories they deserve. In honor of Pride Month, these 7 books with beautiful gay relationships are definitely worth checking out.
The below selections tackle a number of relatable topics, such as love, loss, family, identity, growing up, and coming of age. These books also span genres; there's a graphic novel, a collection of historical fiction short stories, and more than one example that falls under the ever-popular young adult literature category. Basically, there's at least one choice here for every kind of reader. And if you're the type who stays up-to-date on your reading, you can still add these seven romantic books to your summer "to be read" list, because they all came out (or will come out) in 2018.
3. Speak No Evil By Uzodinma Iweala (Mar. 6)
7. Bingo Love By Tee Franklin, Jenn St-Onge, And Joy San (Feb. 20)
Happy reading, and happy Pride!