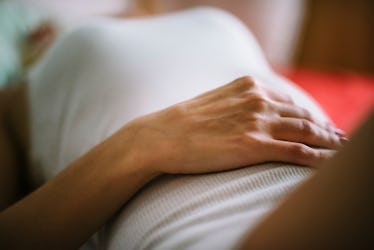 Bloating Is Usually Nothing To Worry About, But These Are The 7 Red Flags To Watch For
Aside from being one of the most annoying PMS symptoms known to women, bloating can happen any time of the month, to anyone, and I'm willing to bet you've been there before. It's that awful sensation that feels like you've got some sort of weighted pit wallowing in your gut that won't budge, no matter how hard you squirm or push to release the bubble. The good thing is that bloating is totally normal, and nothing to be embarrassed about. But there are red flags of bloating to make yourself aware of, because in the worst case scenario, it's not just about passing gas.
In an exclusive interview with Elite Daily, Dr. Josh Axe, D.N.M., C.N.S., D.C., founder of Ancient Nutrition and DrAxe.com, explains that, typically, the root cause of bloating traces back to something like "stress, poor diet, excessive gas, and water retention," but it could also be a sign that something more serious is going on. So, while it definitely could just be a case of an uneasy gut, it's best to consider what else is going on around your body before making assumptions one way or another.
Before you panic, or write off bloating as normal gas pains, Dr. Axe suggests asking yourself, "Besides the bloating and that feeling of heaviness, what other symptoms are you experiencing?" This will help you to better pinpoint whether or not you need medical attention, or just a trip to the bathroom. Here are a few red flags associated with bloating to be wary of.