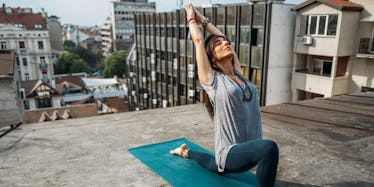 These 6 Yoga Poses Will Help You Catch Your Breath When You're Feeling Anxious
When you're feeling stressed or anxious, breathing deeply and fully is such an important and effective technique for putting your mind at ease. The power that your very own inhales and exhales hold can help quiet racing thoughts, and make you feel like a weight has been lifted off of you. And when it comes to yoga, there are so many yoga poses that can help you breathe, and in turn, soothe your stress within a matter of moments.
Flowing through a gentle, yet strong yoga sequence can help you focus on syncing your breaths with each of your movements and postures, making the entire practice highly meditative and calming. Whether you're participating in a moving meditation on your mat, or a seated meditation in which you observe your thoughts without judgment, practicing mindfulness helps regulate your breathing, and as a result, you'll be able to feel your stress slowly melting away.
Keep in mind, yoga and meditation certainly aren't cure-alls for stress and anxiety, and if these feelings are significantly interfering with your everyday life, it's in your best interest to speak to a professional about the best treatment for you.
But when it comes to finding little ways to manage uncomfortable thoughts and sensations, these six yoga poses will do wonders to help you combat stress, one breath at a time.