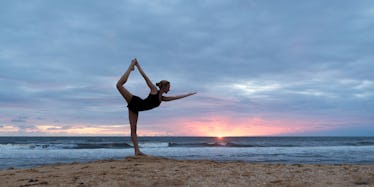 Take Your Yoga Flow To The Beach & Enjoy The View With These 6 Powerful Poses
It's that time of year when literally all of us are itching for those summer days that seem so close, and yet are still so far away. Still, if you're like me, then you don't hesitate for even a second to drive down to the beach as soon as the temperatures warm up. Personally, doing some of my favorite yoga poses on the beach is a killer way to make the most of the gorgeous weather — and if you're a self-proclaimed yogi, as well, it's time to park your mat adjacent to the ocean and breathe it all in.
One of the most amazing things about choosing yoga as your form of movement is that you can literally do it anywhere you go. The beach, in particular, only makes this blissful practice that much sweeter, thanks to all of the unique sights, sounds, and sensations that are inherent to the shore. From the salty scent in the air, to the sound of the crashing waves, to the feeling of the soft and supportive sand beneath your feet, your routine practice will be taken to totally new heights when you venture down to the shore.
Plus, if you're not bothered by a little sand in your hair, all of these poses can technically be done without a mat — hey, one less thing to lug to the beach, right? Try these six empowering yoga poses the next time the magic of the warm weather lures you all the way to the nearest beach.