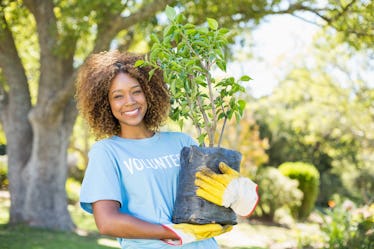 6 Unique Volunteer Ideas To Do With Your Girl Crew That'll Give You All The Good Feels
Volunteering is such an amazing use of anyone's time. It does something to your wellbeing when you see your efforts benefit someone or something else that needs it. Time is really all you need to give back, and if you're reading this, it means you've got some to spare. Coming up with unique volunteer ideas with your girls can not only be a fun experience, but it'll show you why you all are such good friends.
You ladies share that need to contribute to something bigger than yourself. Selflessness is such a genuine quality, so why not want that from a friend? Anyway, your crew might want to switch it up and seek out a volunteer experience that will shy away from simply giving blood or cleaning up the park. Those are great ways to volunteer, by the way, but givers may want to find out what additional opportunities are out there as well.
Well, look no more, because you and your girls can discover ways to volunteer that you didn't even know existed. You'll literally wonder why you didn't think of utilizing your spare time in such a beneficial way sooner. If you ladies are ready to contribute time and effort to a significant cause beyond your initial expectations, consider lending a helping hand to these organizations.