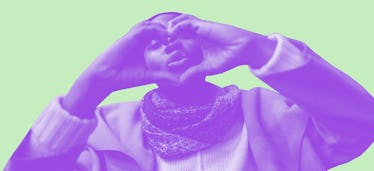 Here's How To Make Celebrating Your Anniversary On Zoom Feel Extra Special
Shanelle Infante, Elite Daily
It can feel like you're making a million little sacrifices every day when you're quarantining away from your partner. One of the hardest things of all to give up this year might be spending your anniversary together. But if you're thinking about scrapping it altogether in favor or an IRL celebration sometime in the undefined future, you may want to reconsider, because a few expert tips for making your Zoom anniversary feel special can make all the difference. In fact, as Julie Spira, online dating expert and author of Love in the Age of Trump: How Politics is Polarizing Relationships explains, there's no need to give up your special day together — it might just look a little different this year.
"Having a Zoom date for your anniversary is an absolute must during the pandemic. Anniversaries for couples are a big deal and a significant milestone," Spira tells Elite Daily. "If you and your partner aren't quarantining under the same roof, scheduling a zoom-versary date to see their smile and celebrate another year around the sun together as a couple, despite the pandemic, shouldn't be ignored."
Here's how the experts say to make your digital celebration memorable and romantic this year.