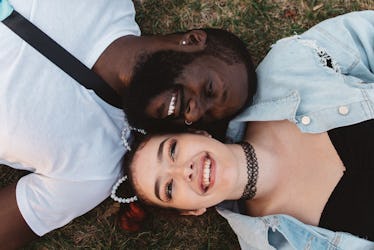 If You Notice These 6 Things, Experts Say It Means Your Date Is Catching Feelings For You
Whenever I want to know if someone I'm dating is catching feelings, I like to hang out in a group setting and pay attention to who they talk to. Not in a jealous "are they talking to that girl too long" kind of way, but rather, who my date's eyes go to when they are addressing the group. Is it everyone, or do their eyes inevitably drift back to me and linger? For me, that's always one of the things you'll notice if your date is developing feelings that's pretty much a dead giveaway. But it's hardly the only one, and it's kind of a specific set of circumstances, so knowing how to spot the signs in other settings can be really helpful — especially if you know you're catching feelings, too, and want to know if you're on the same page.
To help spot the more subtle signs that you're capturing their heart, I reached out the the experts: Laurel House, celebrity dating and relationship coach and host of the Man Whisperer podcast, and Erica Gordon, millennial dating expert, founder of The Babe Report, and author of Aren't You Glad You Read This?. They both shared what they say are ways you'll know if your date is starting to develop real feelings for you. Here is what they say to keep an eye out for.