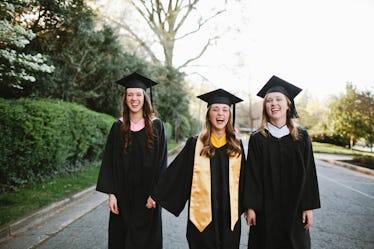 You Should Probably Stop Doing These 6 Things Before You Graduate College
College is where it's at, amiright? You're constantly with your favorite humans, you have so much freedom, and you might even have your own place. Many of us are still trying to figure out what we really want to do for the rest of our lives, and the adventures along the way are ones for the books. Throughout college, all of that fun becomes routine — so routine that we almost don't notice any bad habits we pick up along the way. But luckily, there's always time to figure out the things to stop doing before you graduate college.
Being lazy is A-OK, and let's be honest, we're all kind of lazy sometimes. It's part of life. But another part of life is knowing when to be lazy and when not to be. The nice thing about college is that it's an ideal place for some trial and error, like what routines are going to suit you best as an adult in the real world. So, while you're busy studying and hanging out with friends, maybe try slipping in a few new habits to break some of the old ones.
It's definitely alright to make mistakes, and you might not get things right on the first try. You're only human, after all. Whether you graduate in May or have three more years left of the college life, consider saying goodbye to these six habits beforehand.