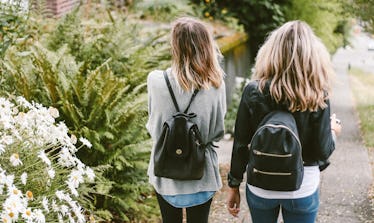 6 Things To Do On Thanksgiving With Your Sister If You Can't Be Home For The Holiday
From reuniting with long-distance family members and friends, to making homemade apple crisp and seasonal baked goods, everyone knows Thanksgiving is one of the most wonderful holidays. It's one of the only days when you're surrounded by your closest loved ones at the dinner table, and if you've been away from home, it's a brief cure for your homesickness. The holiday may be a bit different, through, if there's no way for you and your sister to catch a ride back to home sweet home on Thanksgiving. It's then when you'll most likely start frantically searching the internet for "things to do on Thanksgiving with your sister" if you can't make it home.
Being away from your hometown on the holidays is hard, especially if you're the type of person who lives for big family gatherings and talking loudly over each other while eating pumpkin pie. Luckily, though, you and your sister have each other. With that being said, there's no need to feel down about it. The two of you can still make the most of Turkey Day, as long as you're together. All it takes is some creativity, good spirit, and just a few of these amazing ideas for things to do on Thanksgiving with just your sis. You'll be beating any blues in no time.