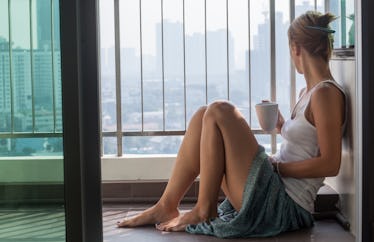 What To Do If Rainy Weather Tries To Ruin Your Spring Break, Because It Doesn't Have To
You're totally prepared. You've booked your ticket, packed your suitcase and created an excel sheet scheduling every minute of your spring break trip down to the last pina colada, but even the best laid plans can often go awry. If it rains on your spring break trip, it might be the sad, undeniable truth that those activities you were excited to do are no longer an option. Staying inside might not be what you imagined for your time off, but that doesn't mean it's a death wish for your vacation.
There are plenty of things to do on spring break even if it rains. In fact, some of the most relaxing options might just reveal themselves to you when it's raining cats and dogs, right around the time when you're about to flip out at the nonrefundable water-ski package you just lost.
True relaxation has nothing to do with a specific activity, and everything to do with your state of mind. So stop stressing about the weather, because rain or shine, there are plenty of ways to enjoy your spring break vacation no matter what. Here are six ways to spend that rainy day in paradise with your friends and family (or all on your own):