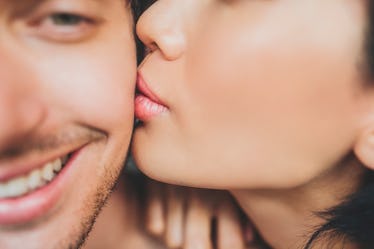 These Are All The Things You Should Never Do While Kissing, According To Science
Kissing is fascinating. If you were anything like me as a tween, you read every magazine article you could get your hands on about the dos and don'ts of kissing — even though you didn't have much of a chance to actually apply this knowledge IRL. Maybe you, too, watched Disney Channel growing up and waited with baited breath for that first kiss between Miley and Jake or Troy and Gabriella. Now that you're older, you've likely gotten the opportunity to put this information to good use. You know things not to do while kissing, based on your experience. But do you know about the science behind these taboos?
In an effort to track the ever-evolving dating habits of U.S. singles, Match conducts their Singles in America Study every year. This is the largest annual survey of over 5,000 single U.S. residents in the entire country. According to their eighth annual report, over three quarters of respondents (76 percent) rank being a good kisser as a top priority. In a separate study at The State University of New York at Albany, evolutionary psychologists found that 59 percent of men and 66 percent of women report having ended a developing relationship because of a bad kiss.
It's of the utmost importance to ensure that your lip-lock game is up to par, so consider the following things you should never do while kissing.