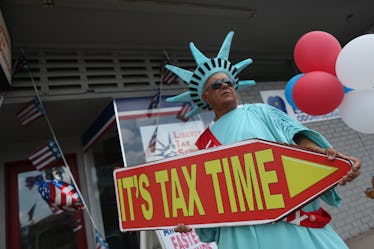 Here Are 6 Tax Day Deals That Even Your Dwindling Bank Account Can Smile About
Joe Raedle/Getty Images News/Getty Images
What I've learned about #adulting is that it's usually not that fun, and there's no better illustration of that then tax season. For some reason, despite fighting it, Uncle Sam comes knocking every year letting you know it's time to break out the forms and get to work filing taxes. It's a grueling process, but thankfully these Tax Day 2019 deals will make the blow to your bank account (and stress levels) a little easier.
When all the work is done and that deadline hits (BTW: the deadline to file your 2019 taxes is April 15, so let's hope you've done that before frolicking for deals), you will definitely want to console yourself with some sweet discounts. Fortunately, companies and restaurants around the country feel what all of us tax-paying citizens are going through, and really pull out the stops to give us a little treat at a trying time. I'm not just talking some small retail discounts, I'm talking free food, crazy drink specials, and yes, some really great discounts both online and in store. People love Black Friday, but I prefer a great Tax Day steal, because honestly that's when I could really use a deal.
So here's a list to end your Tax Season with a bang (for your buck).