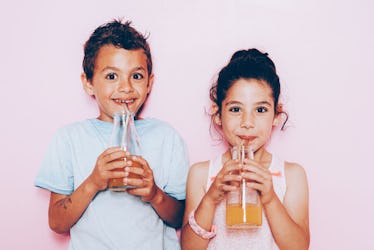 6 Stories Of Lasting Childhood Romances That'll Make You Believe In Fate
Every once in a while, you hear a love story so great that it puts all other love stories to shame. (Well, maybe not to shame, but you get it.) Some love stories are just so epic, they deserve to be told over and over again as proof that love is real. For instance, these stories of lasting childhood romances will not only warm your heart, but also make you wish that you had gotten together with that cutie who grew up down the street from your childhood home.
I don't know about you, but I still vividly remember my first real childhood crush. His name was Austin and he had the bluest eyes I'd ever seen. It was third grade, and I decided to try and charm him after gym one day. Unfortunately, I'd also decided to try the new "no underwear" technique my older sisters taught me, so when I started to strut my stuff in front of Austin as we walked back from gym, and my pants ripped, he got a full view of my pale hiney.
I was mortified, and that moment still haunts me to this day. But luckily, several folks on reddit shared their stories of childhood love that later blossomed into something more. Read on and try not to shed any tears. These are so heartwarming, I cannot deal.