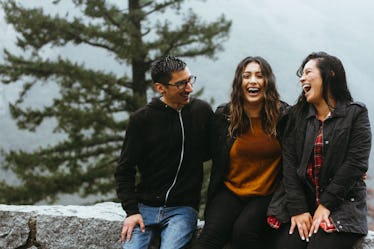 6 Telltale Signs It's Time To GTFO Of Your Hometown When The Holiday Is Over
We all love coming home for the holidays. There's free food, family, festivities, and did I mention free food? There's even a song about it, so you know coming home for the holidays is legit. When you haven't seen the fam in a while, and you've forgotten just what a home-cooked meal tastes like, its always nice to come home and enjoy the spoils. Unfortunately, as much as we love coming home, this feeling doesn't always last. In fact, you just might start to experience some flashing neon signs — signs it's time to leave your hometown, that is.
Maybe you've still only been home for a few days, and it hasn't hit you yet, but let me tell you: it will. If you've been gone from your hometown, even for just a few months, some of the spell is lost on you. You've been out in the real world. You know it's not you and this little corner of the universe anymore. You also know that if you have to hear one more person ask how that new job is going, or how your GPA is looking, you are literally going to puke in the nearest object that resembles a trash can. Sorry not sorry.
So, for better or for worse, you might find yourself realizing that it's time to head home. If you're experiencing two or more of these symptoms, I don't recommend calling your doctor. Instead, please board the next train/bus/plane out of your hometown, and book it home to your nice, warm bed. It's waiting for you.