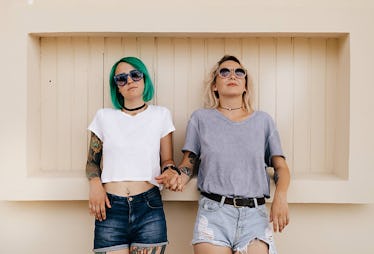 Brace Yourself For These 6 Red Flags Your Relationship Won't Last
When you care about someone, it's natural to want your relationship to work. But sometimes that hopeful optimism can turn into putting on blinders to all the signs and evidence that, despite what you heart wants, the relationship is just not the right fit. This can be hard to accept, but in some ways it can actually make the eventual breakup even harder because you stuck it out longer and got even more attached. It's because of this that having a clearer idea of the red flags your relationship won't last can help you as you move forward and save you some time and emotional energy. Ultimately, what you do with this info will be up to you, but even just knowing what to look for is powerful because it may make the difference between ending things in a kind and calm manner or trying to force a relationship until it grows toxic.
What warning signs should you be on the lookout for? And is it really even possible to spot them early on? According to Lisa Concepcion, certified dating and relationship expert and founder of LoveQuest Coaching, the answer is yes. "Especially when you are clear about your own life goals, values, and what questions to ask to determine if the person is a good fit. The more clarity you have about what you want out of life the easier it is to decide if the person has the values and qualities that are a match," she tells Elite Daily. Here is what the experts say to pay attention to in your relationship if you have concerns that you aren't the right fit for the long haul.