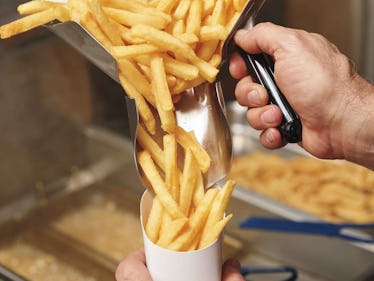 You Can Score Free French Fries From Your Fave Fast Food Spots On July 13
Courtesy of Burger King
It's that time of year again, everyone. Restaurants far and wide are gearing up for National French Fry Day, which is taking place on Saturday, July 13. In honor of the holiday, your fave fast food spots will be giving away tons of discounted French fries. (TBH, you might want to do a drive-thru tour and grab some fries from all of your go-to spots.) Whether you try 'em all or stick with one restaurant, you're probably curious about all of the National French Fry Day 2019 deals on July 13 that you can take advantage of. Thankfully, there are a bunch of options to choose from.
Before I get into the deals, I should make one thing clear. Some restaurants are offering in-store French fry deals, while others — like Burger King, Wendy's, and Sheetz — are offering discounts exclusively on their mobile apps. Therefore, you'll want to have your cell phone out while you're scanning through the discounts. If you see an offer that you like, you'll be able to download the restaurant's app and start the process. It's a super convenient way to redeem the deals, if you ask me.
Still, rolling up to the drive-thru and ordering French fries is a classic move, and I'm all for it. Let's talk about the discounts so you can plan your fast-food stops on National French Fry Day.