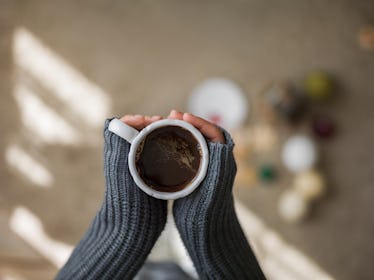 You've Probably Heard These 6 Myths About Coffee, But Here's The Truth Behind Your Brew
Coffee is the nectar of the gods. It wakes you up, puts butterflies in your stomach, and gives you something to do in those never-ending afternoon office meetings where nothing is actually accomplished. Coffee is arguably the most important thing in the average human's life — besides, you know, relationships, and spiritual fulfillment, and all of that jazz. Because everyone loves coffee so much, it's only natural that there's a whole lot of false information to sift through about it. In the same way that rumors about your favorite celebrities tend to circulate quickly, there are tons of myths about coffee that are just plain untrue, as well as exaggerations about what coffee actually does to your body when you drink it on the reg.
As you probably already know, coffee comes in the form of a bean and is naturally caffeinated, which is why you get such a quick boost of energy when you toss back a cup from your local coffee shop. But the effects that these little caffeinated beans have on your body are far less obvious. In truth, coffee is a potent substance that can have both positive and negative effects on your physical, and even your emotional well-being. Here are six classic coffee rumors, debunked.