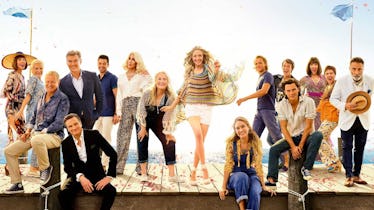 6 'Mamma Mia' Group Costume Ideas That Are Perfect For Your Musical Besties
Universal Pictures
One of the best escapist films of this past summer was the return of Mamma Mia to the theaters with Mamma Mia 2: Here We Go Again. Not only did it inspire legions of fans to rewatch the first one, but it gave cosplayers a whole new set of wardrobe ideas and musical numbers. With October just around the corner, it's time for that ultimate cosplay holiday, Halloween! These Mamma Mia group costume ideas pull from both the original film and the new one for maximum musical movie madness.
One of the best parts of the new Mamma Mia film is that it worked as both a sequel and a prequel to the original movie. That means fans got a look at the original 1970s-era Donna and the Dynamos, and they got to see how Sam, Bill, and Harry dressed up back in the day. But that's not all. The sequel storyline gave fans Sophie and the Dynamos and, if that wasn't enough, a Cher moment for the ages.
All of these are iconic looks which can be recreated for groups of two or three (or larger parties of six or eight) for the ultimate group dress-up. Just don't forget to memorize the lyrics.