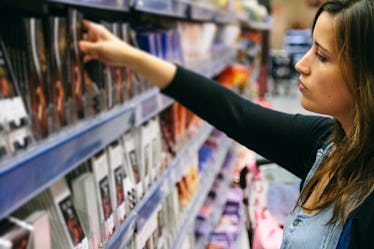 Calorie Counts Are Mandatory On Menus Now, But Here's What Those Numbers Don't Tell You
As someone who works in health and wellness, it's my job (and yes, my hobby) to keep an eye on the latest and greatest foodie trends, but it's also my job to balance that knowledge with the factual stuff, too, like nutrition labels. Sure, it's fun to spill the tea about the behind-the-scenes of what's really in your food, but it's also important to familiarize yourself with the nutrients your body needs to thrive, and the foods that can offer exactly what you need. There are so many important things on food labels that often get overlooked, and that's because our society is so focused on counting and tracking calories that now, calorie counts (and calorie counts alone) are mandatory on restaurant menus.
According to Business Insider, as of Monday, May 7, the 2010 Affordable Care Act requires all chain restaurants to include calorie counts on their menus. To some degree, this is all well and good, considering calories are regarded as one of the most prominent parts of a nutrition label, but there's a lot more to a meal than how it will factor into your daily caloric intake.
For the record, it is helpful to know what your caloric intake is in general, so just in case your memory's a little fuzzy when it comes to what a calorie actually is, Elite Daily spoke with Kit Broihier, MS, RD, LD, and Allison J Stowell, MS, RD, of Guiding Stars, who are here to give you guys the 411 on all things food labels. In short, Broihier and Stowell explain, "a calorie is simply a unit to measure energy." It seems like such a basic definition for something humans make so complicated, right? But really, when you see a "large" number in a food label's row of calorie stats, Broihier and Stowell tell Elite Daily, all that means is the food contains a lot of energy. Ergo, calories are necessary, because everything your body does — breathe, digest, grow, pump blood, metabolize, etc. — requires energy.
However, Broihier and Stowell note, you really don't need to track your calories in order to maintain a healthy, well-balanced diet. Though, if you're personally interested in those details, "it can be helpful to have calorie information on food labels," the dietitians tell Elite Daily. Although, as far as restaurant menus go, Nichola Whitehead, a registered dietitian and nutritionist, isn't totally convinced calorie counts are necessary to include. She told Business Insider,
It's what kinds of foods you eat that matters when it comes to how healthy your body is, how satiated you're feeling, and how much energy you've got. Calories are just a tool.
So, if calories aren't the end-all-be-all of proper nutrition, what part of your food labels should be printed on those restaurant menus in a perfect world? Here's a breakdown of some of the nutrition facts that are actually worth paying attention to in your diet.