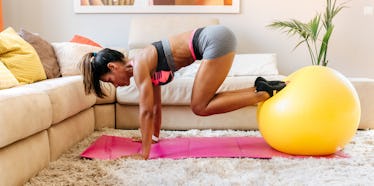 These 6 Home Workouts May Look Simple, But They'll Definitely Make You Sweat
Whenever I say that sweating profusely is my absolute favorite part of a workout, I often get a handful of perplexed and mildly concerned looks. Like, I get it, not everyone enjoys being blinded by their own perspiration, but for me that's where it at, fam. If you're like me and you enjoy being so drenched after your workout that you low key start wondering if you just showered, having a few home workouts that make you sweat on hand will make your apartment workouts that much more satisfying.
TBH, it can be hard to squeeze in quality workouts when you reside in a shoebox sized apartment. However, it is indeed possible to challenge your body to the max and break a satisfying sweat without the fancy cardio machines or intricate muscle sculpting equipment at the gym. And all you need is the power of your very own bod, a little corner of empty space, and maybe a swiss ball — if you're feeling fancy.
So, next time you're chillin' in your apartment and want to squeeze in a rewarding sweat sesh without leaving the comfort of your home, try these six deceivingly simple looking workouts that will fulfill all of your ~perspire desires~.