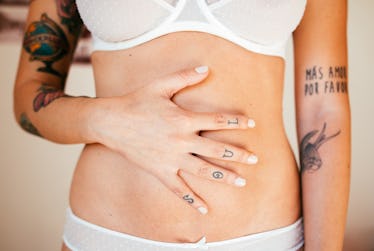 When You're Bloated AF, These 6 Foods Will Help You Feel A Little Better
Let's be real: The aversion to bloating that women have is so much less about how it looks than how it feels. When you're bloated, it feels like you have a tire of gas hovering around your stomach. You can't lie down, sit up, or curl onto your side without feeling this weird pressure that makes you keep running to the bathroom, to no avail. Ironically enough, even though it might have been food that got you bloated in the first place (hello, third round of salt-rimmed margaritas, chips and guac), there are plenty of foods that help you stop bloating, too.
When you're looking to get rid of that awful, gassy feeling around your middle section, you should opt for water-based foods that will hydrate you and flush your system out. The things you should avoid are any foods that are high in sodium or particularly salty, since this will cause your body to retain water and thus bloat even more.
No one is happy with their body 100 percent of the time, but with that said, it's perfectly healthy to stay aware of your bodily changes in response to food, especially if you're using that awareness to further increase your own health. Here are six anti-bloat foods that will help you get rid of that nasty balloon feeling in your body: