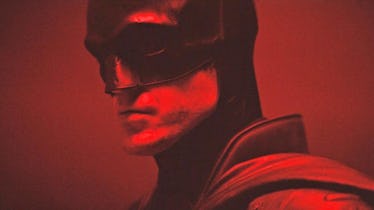 You Def Missed These Easter Eggs In Robert Pattinson's 'The Batman' Trailer
Warner Bros. Pictures
After failing to create an Avengers-like single franchise universe for the DC Comics with Justice League, Warner Bros. Pictures has gone in the other direction. Now, the DC Universe has split into millions of multiverse takes on the characters, with multiple variations of superheroes all existing at once. Currently, there are several Batmans (Batmen? Batsman?), from the Arrowverse version to Batfleck to the old-time Keaton Batman. But the newest is Robert Pattinson's Batman (or, as I like to call him, R.Batz). These easter eggs in Robert Pattinson's The Batman trailer promise that even if this is yet another version of the Caped Crusader, he's still calling back to the same cave.
The Batman panel closed the DC FanDome event on Saturday, Aug. 22, with a talk from director Matt Reeves. His description of the new movie was that it was a slice of Batman's history not yet done on the big screen. This is no "Year One" origin story of Batman Begins, nor is it the grizzled, jaded Batman of Justice League. It also does not jump to the established mid-range Batman of The Dark Knight.
Instead, Reeves will focus on the era just after Year One — call it "Year Two," when Batman is now a known figure, but he and the rest of Gotham are trying to figure out precisely what that means.
Here are the biggest moments and callbacks in the trailer you might have missed: