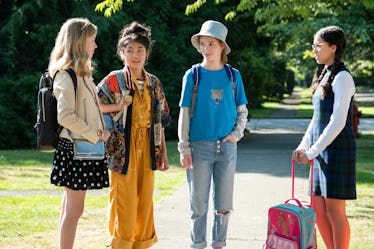 These Easter Eggs In Netflix's 'The Baby-Sitters Club' Are Major Throwbacks
Netflix
The Baby-Sitter's Club was something of a no-brainer for Netflix to develop into a series. After all, its biggest hit is Stranger Things, a story of four kids in a 1980s small town. Even though the revamped BSC series updates the setting to modern-day, Kristy, Claudia, Mary Anne, and Stacey perfectly fit that mold, and the show even references back to retro times whenever possible. Here are some of the best easter eggs in Netflix's The Baby-Sitters Club that will make you feel so nostalgic.
Warning: Spoilers for Netflix's The Baby-Sitters Club follow. The biggest callback in the new series, naturally are the episode titles. Out of 10 episodes, eight are named directly from the first books in the series by Ann M. Martin. They're some of the most famous of the stories as well: "Kristy's Great Idea," "Claudia and the Phantom Caller," The Truth about Stacey," "Mary Anne Saves The Day," "Dawn and the Impossible Three," "Claudia and Mean Janine," "Boy-Crazy Stacey," and "Kristy's Big Day." In a way, this opening season functions as a greatest-hits package for fans of the book series, as well as the older screen adaptations that came before Netflix's version.
But those aren't the only easter eggs. Here are a few others.