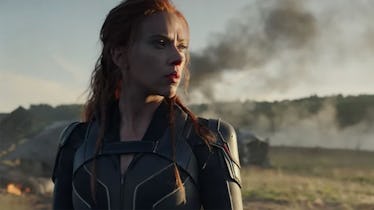 6 Tiny Details You Definitely Missed In The First 'Black Widow' Trailer
Marvel
Marvel is rolling into the new decade with a new slate of films and TV series, which collectively will be known as "Phase IV." This Phase will include the introduction of The Eternals and Shang-Chi, sequels to Doctor Strange and Thor, and a slew of Disney+ TV series. But it all kicks off with a look back at Black Widow, the one character from the first three phases who never got a standalone film. These details in the Black Widow trailer suggest that though this film is set in the past, the story will be important going forward.
This matters because, unlike everyone other Marvel film so far, this one features a character who is dead. Black Widow had to be a film set in the past because, in Marvel's present timeline, she's deceased.
For some, that leaves the question of why is this story the one opening Phase IV? If fans already know her fate, why dwell on Black Widow's story? The answer is that this may set up characters going forward in the Avengers universe. Multiple women work under the Black Widow moniker, and no current main antagonist for the Avengers to face now that Thanos is gone. So this may be reaching back to develop both good and bad guys who have been waiting in the shadows to step forward in later films.
As for what you may have missed: