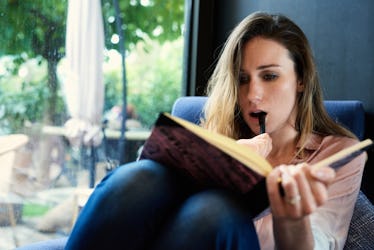 Yeah, You Can Legit Study Sex In College — Here Are 6 Courses You Could Take
For many undergrads, college is a time to expand both your sexual and educational horizons. And understandably so. I mean, when else in life do you have rare book collections and free condoms at your fingertips? Not often enough, that's for sure. If you're wondering how to combine these pursuits and mix sexuality with academia, I've got just the thing for you. Because yes, college classes about sex are a thing (and they sound fascinating).
Regardless of your major, interests, or academic skill sets, I can almost guarantee there's a sex-related college course for you! Curious about the biology of sex? Brush up on The Birds and The Bees in a course by the same name at Skidmore College. History buff? Dive into Transgender History at Northwestern. Wondering how robots and sexuality intersect? Same. Take Queer Robotics to find out (also taught at Northwestern, because wow, does that university have some interesting course material around sex!).
Oh, and if you're one of those people who excels in the arts as well as the sciences, go ahead and dabble in all of the above. (And please know that I nearly failed my only science credit in college and envy you deeply.)
Basically, if you're looking to examine sex and sexuality through an academic lens, there are tons of opportunities to do exactly that. Here's a look at six of the most interesting college courses on this very topic...