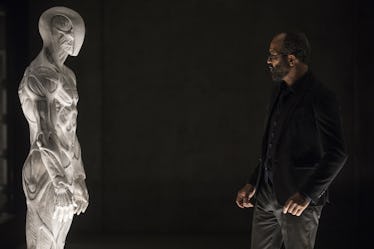 6 Tiny Details In The 'Westworld' Season 2 Trailer You Definitely Missed
HBO
It's been nearly 18 months since we last were in Westworld. HBO's breakout hit aired their first season beginning in October of 2016. Now it's nearly April of 2018, and the second season is so close we can taste it... in the form of a trailer. After a Superbowl tease and an immersive experience at SxSW, there are all sorts of clues in the Westworld Season 2 trailer, embedded within the first full length glimpse at what's coming.
Just to remind everyone where we left off at the end of Season 1: Maeve had managed to hack her way out of Westworld, first to say goodbye to her daughter before changing her mind to go find her. We learn that The Man in Black and William are one and the same, just trapped in different stages of a time loop. Ford reveals to Bernard he programmed Dolores with the personality of Wyatt deliberately, in hopes that one days she would be able to destroy the park. Unaware that it was Ford who set her on this path, Dolores, upon gaining true consciousness, shoots him dead and begins a massacre.
Westworld Season 2 will return to HBO on Sunday, April 22, 2018, at 9:00 p.m. ET. Let's break down what we can glean from these images while we wait.