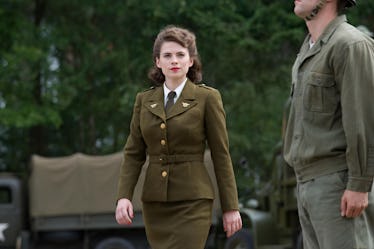 6 'Captain America' Halloween Costumes For Women Who Want To Be Their Own Heroes
Marvel
The Marvel Cinematic Universe is one that's a little behind in doing stand-alone, female lead movies. Yes, there's the occasional Pepper Potts, or Hope van Dyne (and Zendaya as Mary Jane in Spider-Man: Homecoming). But most of the best female roles have been reserved for the Captain America movies. From Peggy Carter to Black Widow to the Scarlet Witch, all the best ladies turn up in the Cap movies. Here, we present the best Captain America costumes for women this Halloween.
While the DCEU beat the MCU to the punch getting Wonder Woman out years ahead of Captain Marvel, most of their other films barely seem to acknowledge women exist, other than Amy Adams. The pantheon of female characters in the MCU, on the other hand, is at least large enough to make a decent-sized list of characters. And, almost all of the best ones (who have then gone on to do their own thing in other MCU vehicles) have taken a turn hanging out with Steve Rogers.
So, let's run down six of Captain America's best female friends from the Marvel Cinematic Universe, and look at what it takes to dress like them this coming Halloween.
1. Peggy Carter
With Peggy, there are a couple of different options. You can go with her "First Avengers" outfit from the original Captain America movie. That is, a 1940s Army uniform, preferably British in style. The cheap version is $25, the really pricey one is $115.
Or, you can do Peggy Carter in her post-war, New York City phase as she works for the early version of S.H.I.E.L.D. from the TV show that followed. That's the famous blue suit ($70 on Amazon) and red hat ($13). Add black pumps and an attitude and you're good to go.
2. Black Widow
Captain America: The Winter Solider should have, by rights, been called Captain America & Black Widow Go Hydra Hunting. She is just as big a role as he is in this movie, and therefore should be considered a part of his franchise, as well as The Avengers. (And, maybe someday, her own stand alone. Hint, hint.)
The deluxe version of her costume is sold in many places, but Spirit Halloween had it well-priced at $50.
3. Wanda Maximoff (Scarlet Witch)
Surprisingly, the MCU version of the Scarlet Witch isn't as popular as you might think. Googling "Scarlet Witch" brings up a lot of versions of the old-school version of the costume, not the one from the newer films.
Thankfully, Wanda Maximoff (who was introduced in Captain America; Civil War) can be found a few places, including on Amazon. It's a bit steep at $98, but it comes with all three pieces (lace up bodice, silk trousers, and coat), which is a pretty good deal. If you want to be really accurate, the wig is $28.
4. Maria Hill
You might think Maria Hill (the S.H.I.E.L.D. deputy director from Captain America: The Winter Soldier) might be a bit on the obscure side. However, she's one of the few movie characters who was allowed to cross over to the Agents of S.H.I.E.L.D. TV series, upping her character's visibility and story.
Because of that, variations of her costume are available in a lot of places. We're partial to the one at Ecrater because it's not just a plain spandex jumpsuit, and it won't break the bank at $89.
5. Sharon Carter (Agent 13)
Captain America's love interest in the second and third movies is Agent 13, who we learn is Sharon Carter, descendant of Peggy. Yes, that's a little weird and slightly creepy, which might explain why there's not really a costume for her to be easily found, either.
Her outfit in both movies is simple enough, with a leather quilted biker jacket ($25) and black skinny jeans (also $25, assuming you don't already have a pair or three). Add a belt with a big metallic buckle ($15) and a leg-hostler ($10), and you're ready to take down Hydra.
6. Captain America Herself
But what if you want to be Captain America for Halloween? Screw all these sidekicks and helpers and girlfriends. If you want to be your own hero, don't worry, you're in luck. There are two versions at HalloweenCostumes.com — the more MCU accurate version, and the more old-school, red white and blue version.
The MCU full body suit will run you $50 and that's not counting the shield, which is an extra $24. Or, you can go with the more 1970s Captain America USA look, which is slightly more expensive at $60. The fishnets, gloves and boots are separate purchases, running $5, $8 and $40, respectively.