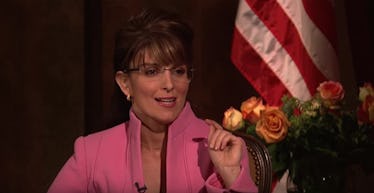 6 Best Tina Fey 'SNL' Sketches To Get You Pumped For The Season Finale
YouTube/NBC
Tina Fey is set to host Saturday Night Live for a sixth time this Saturday, May 19. She'll close out the sketch-comedy show's 43rd season and if you have any doubts about how the writer/producer/actor will perform — look no further than some of the best Tina Fey SNL sketches.
Fey spent nine years being a part of the SNL family. The Second City alum started out at the show as a writer in 1997, eventually landing head writer and cast member positions. She memorably co-anchored "Weekend Update" alongside Jimmy Fallon and later, friend and frequent collaborator Amy Poehler. She exited the show in 2006 to work on her sitcom 30 Rock — a series that became a critical hit in its own right and ended up airing for seven seasons. Fey then went on to create Netflix's Unbreakable Kimmy Schmidt, which is heading into its final season later this month. Since her days on SNL, she's starred in films like Sisters and Date Night and hosted the Golden Globes three times with Poehler.
Tina's latest project is the musical version of Mean Girls, which is based on the 2004 teen movie classic of the same name. Tina penned the script for the film as well as the book for the 2018 theatrical production. The show made its Broadway debut in April and is up for an impressive 12 nominations at the upcoming Tony Awards. Tina better make room on her shelf... she already has nine Emmys and three Golden Globes.
"The biggest thing at SNL that makes me the most nervous is walking out for the monologue is just to not fall," Tina confessed to Kathie Lee and Hoda earlier this month when discussing her nerves about returning to the show that made her a household name. "I should cut together a montage. I have almost fallen, like, three times. You're always in a giant heel which I can't do and yeah, it's that walk down the stairs through the band... Once I'm over that, then it's fine."
Tina, Kathie, and Hoda also noted that her hosting gig lands on the same day of the Royal Wedding, an event that might be fodder for a sketch. "That's something, right? Meghan's Marke's grandma? Meghan Markle's American grandma?" she suggested.
Before you watch Tina do her thing on SNL this weekend, let's look back at some of her unforgettable contributions to the late-night show thus far...
1. Sarah Palin (2008)
Tina Fey was an obvious choice to play John McCain's running mate, Alaska Governor Sarah Palin, leading up to the 2008 election. Aside from the fact that they look alike, she nailed that accent and turned "I can see Russia from my house" into an iconic line.
2. Mom Jeans (2003)
Tina Fey wrote this 2003 commercial spoof that advertised JC Penny's "Mom Jeans" — the denim pant "that says: 'I'm not a woman anymore, I'm a mom!'"
"In the commercial, when you see it on YouTube or whatever, I'm wearing a prosthetic butt and belly that is now my goal weight," Tina joked when looking back at the sketch this year. She also revealed that she was inspired to pen the fake ad after buying an "unfortunate" pair of jeans on "writing night," so just decided to use that.
3. Tina and Amy Mentor Lindsay Lohan (2004)
Amy and Tina did a Weekend Update bit where they explained that had joined the "Teen Mentoring Program of America." Their mentoree? Their Mean Girls co-star Lindsay Lohan.
4. Revolutionary War (2018)
Ahead of the 2018 Super Bowl, Tina — a known Eagles fan and Philly native — showed up in a sketch representing her hometown amidst an intense rivalry with the Patriots. Note the way she says "waters."
5. Brownie Husband (2013)
Is a caption really necessary? She's making out with a microwavable man made of gooey chocolate.
6. Girls Spoof (2013)
SNL couldn't help but satirize HBO's millennial dramady by introducing Tina as a new character — Blerta, an Albanian immigrant who gives the other girls some no-nonsense perspective.
Tina hosts Saturday Night Live's Season 43 finale this Saturday, May 19 on NBC.