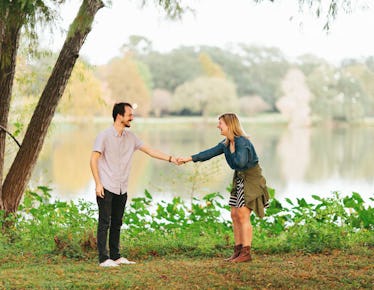 6 Incredibly Beautiful Engagement Videos That'll Turn You Into The Heart-Eye Emoji
You know that feeling you get when you're at a wedding and the vows are exchanged? That lump in your throat that just keeps rising until it eventually bubbles up to your eyes and squeezes out your eyelids? Whether you're bummed about love or deeply in love, there's nothing like a wedding to make any human person cry. But if you really want some next-level feel good tears, it's all about the proposal. Usually a personal moment, some question-popping has been documented for all of us to check out. I highly recommend checking out the best engagement videos on the internet — just have the tissues ready.
From professionally filmed proposals that are essentially short films, to public engagements that are caught on camera, watching couples realize that they are about to embark on an incredible journey together is sweet as can be. I can be a huge pessimist, but these videos truly got me. While I personally don't know if I'd be comfortable with a camera crew on the "set" of my proposal, having a video documentation of the moment sure makes for an amazing reminder of where everything started. Here are the best engagement videos that I could find on the internet. Get ready to sweat from your eyes!