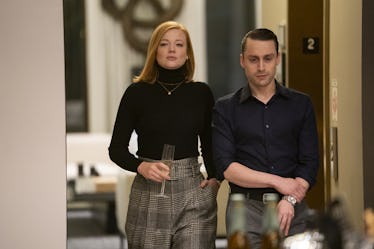 6 Behind-The-Scenes Facts About 'Succession' That Will Make You Want To Rewatch ASAP
HBO
With the continuing stay-at-home orders in effect around the country, TV channels and streaming services are grabbing the opportunity to step up. CBS All-Access is doing a free 60-day subscription to entice viewers to try it out. Acorn TV is offering a free 30-day trial run as well. And HBO is doing a "Stay Home Box Office," where it offers some of its buzzier shows for free without subscription. It's a perfect time for viewers to get hooked on its best new drama, Succession. These behind-the-scenes facts about Succession's first two seasons will help tempt new viewers and remind fans now is the best time for a rewatch.
One reason for viewers to get caught up on HBO's best new drama is Succession Season 3 is on the way. The new season was greenlit back in August of 2019, with Deadline reporting an expected fall of 2020 release.
Though there isn't a hard and fast date yet, the return of the Roys to TV will fire up fans all over again. Season 2 saw battle lines drawn between patriarch Logan Roy (Brian Cox) and his eldest son Kendall (Jeremy Strong), who is gunning for a takeover. When billionaire titans of the media brawl in the street, everyone should bring popcorn.
But what is it that makes Succession work so well? Here are a few behind-the-scenes details that contribute to how great it is.