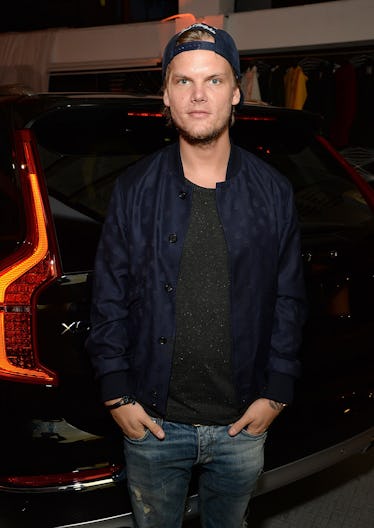 6 Avicii Lyrics That Will Live On Forever
Michael Kovac/Getty Images Entertainment/Getty Images
The music world is mourning the loss of accomplished DJ and producer Tim Bergling, also known as Avicii, today. The Swedish-born musician was found dead in Oman. He was 28. The EDM pioneer had a massive influence on the industry, and is best known for hits like "Wake Me Up" and "Hey Brother." Aviici's lyrics and melodies make up some of the most memorable hits of the last decade. A statement to Variety from his rep read:
It is with profound sorrow that we announce the loss of Tim Bergling, also known as Avicii. He was found dead in Muscat, Oman this Friday afternoon local time, April 20th. The family is devastated and we ask everyone to please respect their need for privacy in this difficult time. No further statements will be given.
Avicii announced he was retiring from touring in 2016 via a message on his website.
"To me it was something I had to do for my health," he explained of the decision to The Hollywood Reporter in 2016. "The scene was not for me. It was not the shows and not the music. It was always the other stuff surrounding it that never came naturally to me. All the other parts of being an artist. I'm more of an introverted person in general. It was always very hard for me. I took on board too much negative energy, I think."
"It's been a very crazy journey. I started producing when I was 16. I started touring when I was 18. From that point on, I just jumped into 100 percent," Avicii said speaking with Billboard the same year he broke the news of his retirement. "When I look back on my life, I think: Whoa, did I do that? It was the best time of my life in a sense. It came with a price — a lot of stress a lot of anxiety for me — but it was the best journey of my life."
The prolific and talented Avicii was nominated for two Grammy Awards and won a Billboard Music Award in 2014. His fascinating career was chronicled in the 2017 documentary Avicii: True Stories.
Avicii's legacy will surely live on through his songs, the artists who follow in his footsteps, and the fans who love him. Here are some unforgettable lyrics from his remarkable musical contributions.
1. From "Wake Me Up"
Feeling my way through the darkness / Guided by a beating heart / I can't tell where the journey will end / But I know where to start / They tell me I'm too young to understand / They say I'm caught up in a dream / Well life will pass me by if I don't open up my eyes / Well that's fine by me
2. From "The Days"
Heart ache, heart break / All over town / But something flipped like a switch when you came around / And I'm in pieces, pick me up and put me together / These are the days we've been waiting for / On days like these who could ask for more?
3. From "Hey Brother"
Hey, brother, there's an endless road to re-discover / Hey, sister, do you still believe in love, I wonder? / Oh, if the sky comes falling down for you / There's nothing in this world I wouldn't do.
4. From "I Could Be the One"
When you need a way to beat the pressure down / When you need to find a way to breathe / I could be the one to make you feel that way / I could be the one to set you free
5. From "Silhouettes"
We've come a long way since that day / And we will never look back at the faded silhouette / We've come a long way since that day / And we will never look back, look back at the faded silhouette
6. From "Lonely Together"
Eyes wide shut and it feels like the first time / Before the rush to my blood was too much and we flatlined / And I know, and I know, and I know, and I know just how this ends / Now I'm all messed up and it feels like the first time