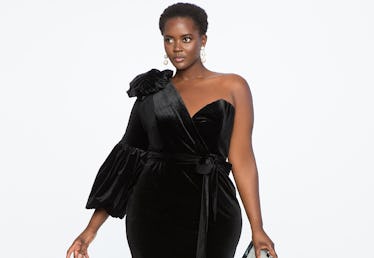 57 Plus-Size Holiday Dresses You'll Look Forward To Wearing At Family Dinner
Courtesy ELOQUII
Ahh, the holidays. Known to be the best of times, the worst of times, and everything in between, November and December can often be jam-packed with family get-togethers, awkward dinners, office parties, and outdoor wintry activities. (Hello, disastrous attempts at iceskating.) Whatever you're getting up to this season, however, it's very likely that you'll need a plus-size holiday dress to get you through it. Thankfully, the plus market is more diverse than ever before. It is by no means perfect, folks, but there'll still hopefully be an ensemble out there that fits your every fancy.
Whether your to-do list includes one or several holiday dinners at the homes of various relatives or upscale parties and galas in the trendiest city near you, a dress can sometimes be the easiest thing to wear. After all, it's just one piece of fabric. All that's left to choose thereafter are the shoes, the accessories, and the tights. Or, you can keep it all minimal because why the heck not?
Some of the season's style staples include velvet textures, deep burgundy and forest green hues (or the more elf-like fire truck reds and Crayola greens), and a whole lot of sparkle. You'll find all of this in the selection below, as well as some more unique alternatives that can be worn year-round. Your plus-size style needn't be boring this holiday season due to a lack of selection. So find your sartorial muse and grab the candy canes.