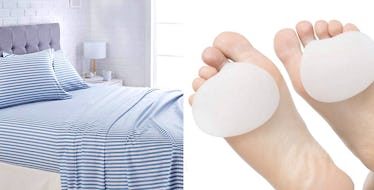 50 Surprising But Awesome Products Getting A Ton Of Love On Amazon
Amazon
Life is filled with surprises — but when something unexpected happens to throw your world slightly out of orbit, there are a number of products that can help restore peace and harmony. These surprising but awesome Amazon products getting a ton of love offer small solutions to some of life's everyday problems, whether you're trying to warm your hands up or pack for a trip.
Maybe you thought your cold hands were just a fact of life, or that you were destined to forever be stopped at the airport because your toiletries didn't fit TSA standards. The innovative products on this list — like battery-operated hand warmers that slip into your pocket and reusable toiletry bottles that take the guesswork out of packing — will instantly improve your quality of life.
The same can be said for smart and practical products like the wearable reading light that's actually comfy (and won't keep your roommates up all night as you devour your latest book), the several foot and back massagers that ease muscle and joint pain in seconds, or even the smart water bottle that literally glows to remind you to stay your hydrated best self.
These problem-solving products are fast becoming new favorites among shoppers who can't stop raving about them.