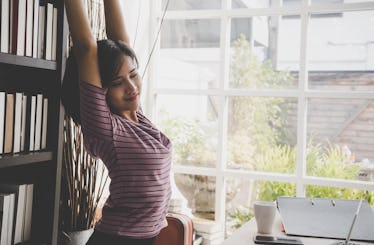 Here's How You Can Sneak Some Yoga Into Your Day Without Your Co-Workers Judging You
If I could do yoga literally wherever I went, I would — and TBH, I kind of do. Even while I'm working, I'm always low-key cranking out some super casual yoga poses throughout the day (and no, I'm not talking about doing a headstand in the middle of the office, though that does sound rather exhilarating). As a yoga teacher, and as someone who just loves the practice in general, I've pretty much mastered the art of doing yoga poses at work without looking like a total weirdo, and without getting majorly judged by all of my co-workers. I guess you could say being ~subtly zen~ is my specialty.
Now, you might be thinking: Why does she care what her co-workers think of her? But come on, fam — do you really want to be known as the office hippie who chants "om" in between meetings, or busts out a downward facing dog at the coffee machine? Yeah, neither do I.
The good news is that there are definitely a few easy ways to integrate yoga into your day without drawing the entire office's attention to yourself. And, honestly, keeping your practice subtle and private during work hours will feel like an awesome little secret you have with yourself — on how you stay so freaking grounded, centered, and free of bodily tension all day long. Pretty soon, your co-workers might just be asking you what your secret is.
If you're trying to sneak some yoga into your day to de-stress, but you don't want those judgmental stares from your co-workers, try these five yoga poses that are pretty much as low-key as it gets.