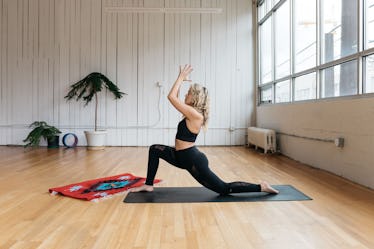 When Overthinking Gets The Best Of You, Try These 5 Yoga Poses To Clear Your Mind
If you're someone who tends to overthink even the simplest situations in life, then you know the exhausting feeling of a racing mind that tries to control and perfect every situation. Even something as seemingly harmless as sending a text and not receiving a reply right away can send you down a rabbit hole of doubt and negative self-talk. For chronic overthinkers, it's important to take a step back from the situation and remember that not everything can be controlled. Of course, that's easier said than done, but flowing through a few simple yoga poses to clear your mind can, at the very least, help you tune out those internal voices of criticism and self-doubt when they try to take the reigns.
Personally, when overthinking gets the best of me, yoga is the most blissful and effective way to calm my mind and realize that my thoughts are running rampantly and irrationally. This is because yoga is essentially a moving meditation that unifies your breath with physical fluidity, forcing you to be completely present and grounded. Combining the dynamic postures on your mat with controlled, deep inhales and long, elaborate exhales draws your attention to only the act of the mind-body connection you're creating, and allows the jumble of toxicity that's knotted itself in your brain to unravel, and your thoughts to become clear, stable, and aligned once again.
Try these five yoga poses the next time you're waiting for that text back, or when you're going over (and over) a past conversation you had in your head. Getting on your mat will allow you to realize that some things are out of your control, and that that is completely OK.