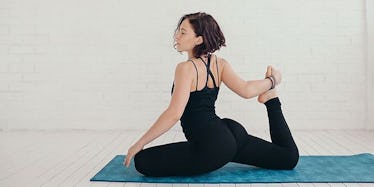 5 Heart-Opening Yoga Poses That'll Help You Practice Gratitude This Thanksgiving
Practicing gratitude is such an important part of life, and it's even more prevalent with Thanksgiving right around the corner. As a yoga teacher, I like to include heart-opening poses in both my classes and my own personal practice so that my physical body can mirror all of the mental and emotional appreciation I strive to cultivate. Incorporating yoga poses for gratitude in your own practice will really transform your flow as the holidays approach, as these movements will help you gain a whole new perspective on the amazing things you're already thankful for in your life.
TBH, in the midst of all the delicious food and the Black Friday shopping, the true meaning of Thanksgiving can easily get lost in the shuffle of it all. While I'm all about finding great deals at the mall after I'm done feasting on pumpkin pie, stuffing, and mashed potatoes, I think we can all benefit from reminding ourselves what we should be thankful for not just now, but around the entire year. It's so important to find moments that allow you to ground yourself and really meditate on what you're truly grateful for in this life.
These five yoga poses are a great way to open up your heart so you can fill that space with clarity, energy, and graciousness. Give them a try this holiday season, or really, any time at all, so you can always come back to and appreciate the little blessings that life brings.