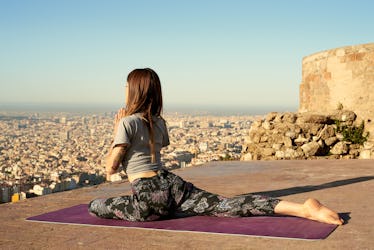 Here's How Practicing Yoga Can Help You Break A Bad Habit Once & For All
Everyone has bad habits that they wish they could break, but when you're stuck in that vicious cycle yourself, it can seem impossible to get out of it. For me, my bad habit is biting my nails when I'm stressed. For you, maybe it's procrastination, or being on your phone way more than you'd like. There a ton of suggestions out there for how to bust a bad habit, but practicing yoga is one trick that often flies under the radar. A few yoga poses for bad habits might just help you break yours once and for all, but really, it's the defining principles of yoga itself that can teach you how to find a lifestyle and a set of habits that work for you, and how to release the ones that aren't serving you.
In yoga, there are two guidelines, so to speak, called "yamas" and "niyamas." Essentially, these refer to positive observances, duties, and morals that can help guide you toward releasing bad habits and forming new, better habits for healthy living. One of the five niyamas is called svadhyaya, which roughly translates to "self-study." If you apply the concept of svadhyaya as an intention to your physical practice, you'll not only gain a better awareness of your habitual tendencies, but also why you work the way that you work. And once you start understanding why you do some of the things you do, this will make breaking your bad habit that much easier to do.
After you practice these five yoga poses, take some time to journal about how they made you feel, keeping the concept of svadhyaya in the back of your mind as you write. Changing or breaking a habit is hard, but it all starts with a little bit of self-awareness, and a lot of dedication. These five yoga poses are a great way to start off on the right foot on the path toward positive transformation.