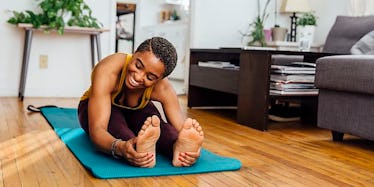 These Sweat-Free Workouts Will Help You Avoid That Dreaded Second Shower Of The Day
I don't know about you, but I freaking despise showering. Honestly, it's annoying AF, and I only do it because it's (sadly) a requirement when you're a human being. I do, however, love working out. But when my midday sweat sesh forces me to double shower, it's game over, fam. Showering twice in one day is the literal bane of my existence, which is why I've made it my mission to find as many workouts that won't make you sweat as humanly possible. Am I being dramatic? Maybe. But if I can find a way to avoid an extra trip to the tub, you better believe I'm seizing the opportunity.
Luckily, there are a few workouts out there that challenge your entire body and give you that wonderful rush of endorphins that exercise brings, but do not make you perspire waterfalls from your forehead. Side note, though: If you do try these exercises and start low-key sweating a little, don't blame me. Everyone's different, OK? All I'm saying is these bad boys are basically as low-intensity as it gets, so you'll most likely be in the clear to skip your post-workout shower.
So, the next time you already showered in the a.m. and still want to squeeze in some exercise later in the day (without having to cleanse your body yet again), here are five workouts that will leave you high and dry and as far away from your body wash as possible.