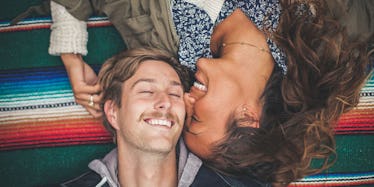 5 Ways To Figure Out What You're Really Looking For In A Partner
Before I started dating people, I had no idea what I wanted from a partner, or how to figure out what I should look for in a partner. Sure, I sort of knew the basics – pick someone who's nice, someone who's supportive. (I may have been given some helpful guidelines from Harry Styles.) But after that it was all kind of guessing. When I entered my first relationship in college, I wasn't seeking out much of a certain type; we just got along and I thought he was attractive. So it kind of just happened. But as the relationship broke down, I realized there are certain aspects to a personality that just don't work for me. For example, something that I think would really help my next relationship is getting along with my SO's friends. Knowing that going in makes things a lot easier for sure.
Now, whether you know it or not, if you're the relationship-kind-of-person, there are qualities that just will or will not work with you. It's OK to not mesh with everyone, and it can be way helpful knowing what you like and don't like when seeking out a new relationship.
I spoke with Lori Salkin, senior matchmaker and dating coach, and Nina Rubin (no relation), M.A. and life coach, to get a handle on how to know what you want in a partner.