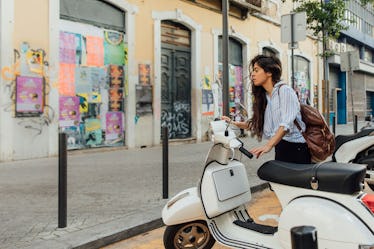 The Most Unique Ways To Explore Europe That You Probably Didn't Consider
Traveling in Europe can be overwhelming as much as it is exciting. There are so many incredible destinations, each with distinct characteristics that make them worth visiting. Needless to say, it can be a difficult task narrowing down exactly where you want to go. And if you're hitting a few cities or countries in the same trip, there are almost too many options. Your research will probably tell you to book buses and cheap flights since they're usually the most convenient. Although you may already be daydreaming about which budget flight to book, you should also consider some of these unique ways to see Europe, to make your experience unforgettable.
In addition to the unparalleled scenery and sites in Europe, there are so many transportation options available for travelers. Most people know about the low bus fares (and surprisingly low airfares), but there are many additional ways to take in the breathtaking sights of your favorite European countries. Mediterranean destinations often offer transportation by sea, and let's be honest: There's no better way to explore Rome than by Vespa.
Some of these alternative transportation options may require some finesse (The last time I tried to drive a Vespa I couldn't figure out how to turn and I just walked it back to the rental place — not kidding.), but if you're able to work them into your European travel plans, you'll be so glad you did.