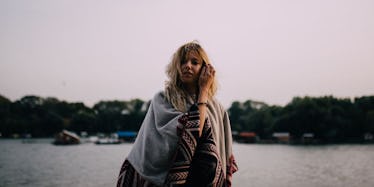 5 Hacks For Avoiding Loneliness When All Your Friends Are Coupled Up & You're Not
If you're single and all of your friends are coupled up, you could easily feel lonely at times. Your friends are off with their partners, while you don't have that same kind of person in your life. Things you used to do with your friends, like trivia nights, movie nights, and grabbing quick lunches during class or work breaks, could maybe dwindle down in number due to your friends spending more time with their significant others. Tips for avoiding loneliness when you're the only single friend could be helpful, especially since you could feel isolated due to the change in your social life.
I spoke with Dr. Darcy Sterling, Tinder's Dating and Relationship Trend Expert, about tips for feeling less lonely when your friends all suddenly couple up. In addition to it being cuffing season, and you feeling like you should be settling down, it could be even harder once you're actually surrounded by tons of relationships but are single yourself. Being the only single one doesn't have to be a lonely, sad experience. You could actually enjoy it. Here are Sterling's tips to avoid loneliness when your friends are in relationships.