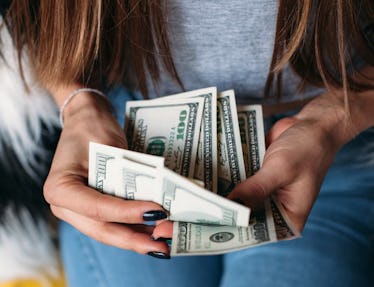 Spending Your First Paycheck On These 5 Things Will Make The Hard Work Pay Off
"Adulting" can be anything but glamorous, but one of the single most exciting parts of getting your first job is the feeling of receiving your first paycheck. Whether it goes into your savings account for safekeeping or straight towards your rent, that first taste of real, hard-earned cash money is absolutely glorious. However, if you're not entirely sure how to spend your money when you get it, here are five things to spend your first paycheck on. I know they say that money can't buy happiness, but I'll definitely admit that actually having an income feels pretty fantastic.
How you spend your first paycheck depends on your lifestyle and the goals you set. Even though I initially planned on spending my first paycheck on a giant mansion to house hundreds of dogs, I realized that's more of a long-term goal. Most people end up spending their first paycheck on food, something expensive, or maybe even a vacation. If you think about it, there are so many new opportunities when you actually have money coming into your bank account. I had the chance to speak with several hard-working adults about their first paychecks, and here's how they decided to spend their money.