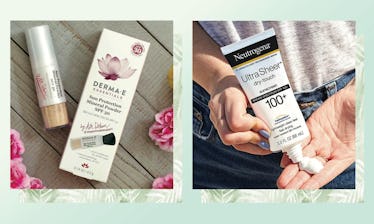 These Sunscreens Offer Maximum UV Protection, Without Any Chalky White Residue
Bustle / Amazon
Sunscreen is an acknowledged essential, but the user experience can sometimes leave a lot to be desired. Those thick, heavy lotions never seem to absorb completely — never mind trying to find a sunscreen that doesn't leave white residue. The bare minimum requirement, according to the American Academy of Dermatology, is a broad-spectrum SPF 30 that filters out both UVA and UVB rays, but finding one that won't leave a white cast comes down to digging into ingredients.
Physical Versus Chemical Sunscreen
There are pros and cons to both physical and chemical sunscreens, so the choice is really up to you. Here's what you need to know about each.
Chemical Sunscreen: This lightweight and easy-to-apply type of sunscreen is less likely to leave a white residue than heavier physical sunscreens, and it's easier to blend with other skincare ingredients. Plus, since chemical sunscreens spread easily, there's less risk of leaving parts of your skin exposed because you're not depending on a thick physical barrier like you would with mineral sunscreen. That said, chemical sunscreens usually include at least two of the following ingredients: oxybenzone, avobenzone, octisalate, octocrylene, homosalate and octinoxate. These ingredients, especially oxybenzone, have taken heat in recent years for being linked to endocrine disruption and for negatively impacting coral reefs. Plus, a chemical sunscreen can be pore-clogging, and you also have to wait some time for it to be maximally effective.
Physical Sunscreen: Also called mineral sunscreen, this heavier type of sun protection actually sits on top of your skin to create a literal (physical) barrier. Titanium dioxide and zinc oxide are the only two mineral ingredients that are FDA-approved for sun protection — and they both look chalky in their raw form. However, despite being thick, mineral sunscreens are still a top choice for many thanks to their natural, reef-friendly ingredients that start protecting your skin immediately. Plus, some formulas these days are made to go on more sheer, and others even come with a tint to offset any chalky residue. Just keep in mind that mineral options will wear off more quickly than their chemical counterparts.
With all that in mind, it's time to shop for the right sunscreen for you. All of the options below have passed the no-white-residue test, and come highly rated on Amazon.
We only recommend products we love and that we think you will, too. We may receive a portion of sales from products purchased from this article, which was written by our Commerce team.